Towards Implementation of Commodity-Based Trade of Beef in the KAZA TFCA:
Opportunities for Integrating Livestock Agriculture & Wildlife Conservation

A KAZA Workshop, in collaboration with AHEAD & FAO
Victoria Falls, Zimbabwe, November 3-4, 2016
Download Workshop Proceedings (PDF)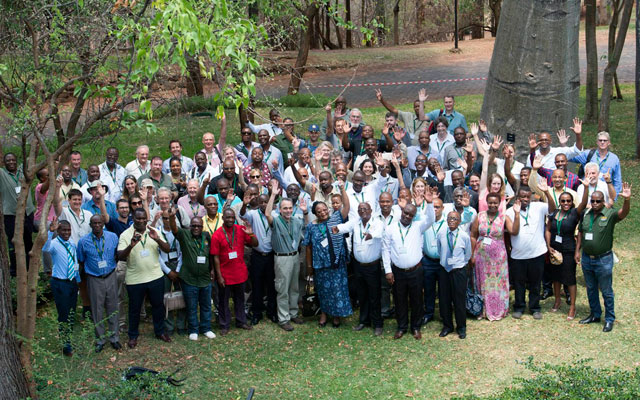 © S. Felton, WWF-Namibia

In November 2016, the Kavango Zambezi Transfrontier Conservation Area (KAZA TFCA - http://www.kavangozambezi.org) Secretariat, in collaboration with AHEAD (Animal & Human Health for the Environment And Development – a programme of Cornell University and the Planetary Health Alliance) and FAO (the Food and Agriculture Organization of the United Nations), with additional support from the Rockefeller Foundation and GIZ, hosted the above-mentioned workshop.
More than 100 invited delegates from the livestock agriculture and wildlife conservation sectors from the five KAZA TFCA partner countries and further afield, including government officials, representatives from affected farming communities and the private sector, researchers, NGOs, International Cooperating Partners and colleagues from regional and international regulatory bodies, converged at this forum to discuss important opportunities associated with changes to international disease management standards pertaining to beef trade – ones that facilitate an approach to beef production that is more compatible with wildlife conservation, and that don't completely rely on landscape-fragmenting fencing.
Basis for the meeting:
One of the objectives of KAZA as listed in the Treaty (2011) is to "promote and facilitate the harmonisation of relevant legislation, policies and approaches in the area of transboundary animal disease prevention, surveillance and control within the KAZA TFCA." However, within KAZA, wildlife and livestock production are in conflict due to the prevalence of animal diseases – especially foot and mouth disease (FMD) – that can be transmitted between wildlife and livestock. This situation restricts market access and constrains the success of livestock owners who share the land with wildlife. In addition, attempts to meet international standards related to "freedom from disease" under currently applied policies for addressing FMD have had significant negative repercussions for free-ranging wildlife, largely related to disease control fencing.
Fortunately, scientifically sound and equally effective non-geographic (i.e. non-fence based) approaches to managing risks from diseases like FMD now exist. Commodity-based trade (CBT) approaches focus on the safety of the beef production process, rather than on the animal disease situation in the locality of production. Furthermore, in 2015 the international sanitary trade standards adopted by the OIE (World Organisation for Animal Health) were amended to remove certain restrictions on the trading of beef derived from areas where wildlife maintains FMD viruses. All of this provides a timely opportunity to rethink the region's approach to FMD management.