Livestock, Wildlife & Resilient Livelihoods:
Ways Forward in Namibia's Component of KAZA

A MAWLR-MEFT-hosted workshop, in collaboration with AHEAD & WWF
Katima Mulilo, Namibia, September 26-27, 2022
Download Workshop Proceedings (PDF)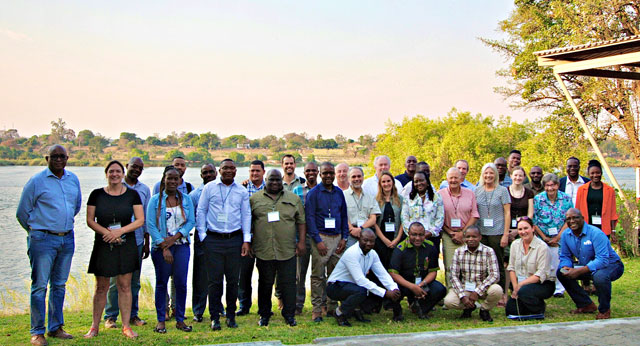 In September 2022, Namibia's Ministry of Agriculture, Water and Land Reform (MAWLR), through the Directorate of Veterinary Services (DVS), and the Ministry of Environment, Forestry and Tourism (MEFT) hosted the above-mentioned workshop, in collaboration with AHEAD and WWF-Namibia.
The forum brought together over 40 participants including senior DVS and MEFT officers and veterinarians; the Meat Board of Namibia and Meat Corporation of Namibia; the University of Namibia; representatives from the KAZA Secretariat and Botswana Vaccine Institute; and other researchers and NGO partners. The workshop provided attendees with the opportunity to (i) review the history of and current state of commodity-based trade (CBT) in Namibia, (ii) develop a shared understanding of how successful CBT can enhance prospects for resilient livelihoods, and (iii) share thoughts on border fences between Namibia and Botswana in terms of historical vs. current livestock disease management and wildlife conservation (connectivity) needs.
Basis for the meeting:
Livestock agriculture and wildlife conservation are both critical components of Namibia's economy, particularly in the country's component of the Kavango Zambezi Transfrontier Conservation Area (KAZA TFCA), primarily the Kavango East and Zambezi Regions, and a portion of Kavango West. However, the potential economic benefits from livestock production are not being fully realised because cattle farmers in these areas have lacked full access to higher value markets due to the proximity of wildlife, particularly buffalo, that maintain foot and mouth disease (FMD) viruses. This situation has restricted market access and constrained the success of livestock owners who share the land with wildlife. In addition, attempts to meet international FMD standards related to "freedom from disease" have had significant negative repercussions for free-ranging wildlife, largely related to disease control fencing.
Wildlife is one of Namibia's greatest assets and, in terms of its portion of KAZA, the status of the Kavango West, Kavango East and Zambezi Regions as FMD protection and/or red zones is unlikely to change soon. However, this does not mean that these areas cannot produce FMD-free beef. Newly developed CBT approaches are scientifically sound and effective, and accepted by the OIE (recently renamed WOAH). The further development of this approach would be a 'win-win' for sustainable and diversified land use and livelihoods and go a long way towards realising our collective, regional vision for KAZA.